A Legacy of Leadership Through Philanthropy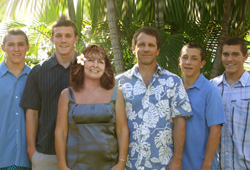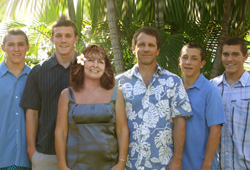 The Mench family (Matthew, Kalani, Jane, David, Dax and Cheyne) believes in the mission of Chapman University.
Kalani Mench '13 was the first in his family to attend Chapman University. During his freshman year, his parents took the steps to include Chapman in their living trust.

"The consideration of a gift to Chapman by way of estate planning came naturally to us when our eldest son, Kalani, first began his college education. We felt that the education and guidance he was receiving at Chapman was a priceless gift, something that every parent would hope for their child," said Kalani's father, David.

As Chapman parents, David and his wife Jane attend and oftentimes host Chapman events near their home in Kailua, Hawaii. They especially enjoy the new student welcome receptions for students from Hawaii who are planning their upcoming move to Chapman.

"I remember meeting Jane and her son Kalani at the welcome reception in the summer of 2009, so it was great to see them attend again as they welcomed the newest Chapman families," said Paula McCance, assistant director of parent engagement. "Jane has truly become a Chapman voice in the Hawaiian Islands as she makes phone calls to touch base with other local families."

In addition to Kalani, the Menches have three younger sons: Matthew, Cheyne and Dax. Twins Matt '14 and Cheyne '14 are now alumni and Dax has joined the Chapman class of 2017. Jane said that she and her family have felt embraced by Chapman since the very beginning, which was instrumental in their visionary decision to include Chapman in their living trust.

Jane and David's bequest has personal and heartfelt meaning; it is their way of saying "thank you" for the strong support and solid education that Chapman provides to their sons and other students. Their bequest is also a symbol of the valuable lesson of philanthropy they are sharing with their children.

"One of the greatest lessons that David and I can pass to our four children is 'legacy of leadership' through philanthropy." said Jane. "The feeling of creating a family legacy is so wonderful, and it is completely in your control to give a gift in any creative manner that you would like."

In recognition and appreciation for their estate gift, David and Jane were inducted into the Charles C. Chapman Legacy Society. Their names appear on the Legacy Society wall in Argyros Forum as a way to inspire others to make similar arrangements as part of the estate planning process.

Click to learn more about including Chapman University as a beneficiary of your will or living trust.
Inspire Your Legacy
For information about creating your Chapman legacy, contact us.