Strengthening Chapman's Disciples Roots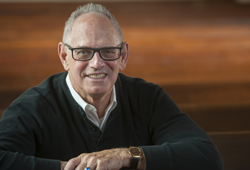 Rev. Dr. Ben Bohren has been a part of the Chapman Family since 1978, more than 40 years. He moved to Orange to be a minister at First Christian Church, right down the street from the campus. Chapman's beloved president at the time, Buck Smith and his wife and daughter, Joni and Sherry, often attended worship. Soon, they formed a meaningful relationship with Ben.
When Ben was struck with a vocal disease in 1986, he had to resign as the pastor of First Christian. At his going away party, Buck whispered to Ben, "When you're able to work again, there will be a job for you at Chapman." One year later, Ben became the director of Church Relations.
In this position, Ben founded a special program known as Disciples on Campus (DOC) to connect interested students with Chapman's founding faith, the Christian Church (Disciples of Christ). When Ben first arrived on campus in 1987, there were only eight DOC students. By the time Ben left in 1997, there were more than 100 DOC students, many of whom were leaders across Chapman's campus.
Ben has chosen to support the university through a legacy gift in his living trust to guarantee the Disciples on Campus program can continue to be given the greatest financial support possible while at Chapman. Rather than scholarships, Ben chose to endow a fund in Church Relations to help DOC students participate in special programs and activities. According to Ben, "It's important for Chapman to keep its Disciples roots. The academic atmosphere at Chapman is superb, so I want to make sure Disciples students get that financial opportunity."
Ben's desire to give back is directly connected to his deep spirituality. "Where we feel we can meet the needs of others, we have a responsibility to give back to what we have been given. Giving is just a natural part of my life, and Chapman is one of the places where I see it is very valuable to give."
Note: While founded by the Disciples of Christ, Chapman is an all-faiths institution, with religious leaders from multiple faith backgrounds on staff in the Fish Interfaith Center and more than 15 religious/spiritual student groups.
Inspire Your Legacy
For information about creating your Chapman legacy, contact us.