A Lifetime of Dedication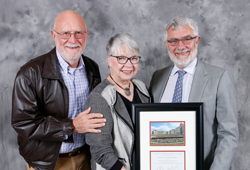 Karen Haren '72 has dedicated her life to making a difference, including a 27-year career at Harvesters, a regional food bank serving a 26-county area of northwestern Missouri and northeastern Kansas, during which she eventually became president and CEO. Because of her devotion to making life better for her fellow humans, Karen was awarded the Schweitzer Award of Excellence in 2014, an award given by Chapman University in recognition of a life dedicated to helping others. In fact, she was the first Chapman graduate to receive this award.
"I was totally surprised — the award has been given to, what I'd consider to be world leaders, so to be recognized was an honor," Karen said.
Her commitment to philanthropy does not stop there — Karen is deeply passionate about giving back to students at Chapman. She understands firsthand what scholarships and financial aid mean to a student trying to go to college. "I'm the first generation in my family to go to college. My parents worked really hard to make it possible for me to come here, and on top of that, I had scholarships and loans. It really took a village," Karen emphasized.
When Karen thinks about her contributions of time, talent and treasure to Chapman and the students she has helped, she is proud of the opportunities she is providing young people who will solve the problems of tomorrow. "You can't solve today's problems with the same thinking that created them. It takes new, expanded levels of thinking and creativity, and I think Chapman engenders that."
Karen's passion for creating a better world inspired her and her husband Terry to include need-based scholarships at Chapman in their estate plans. They hope others will follow in their footsteps and consider a legacy gift for Chapman.
"It's really one of the best feelings in the world, to give to others, to share. Seeing the students and knowing what a huge difference it makes for those young people," Karen said. "We all want to make a difference in the world, and supporting Chapman, supporting scholarships, I think that's a way to make a difference."
Inspire Your Legacy
For information about creating your Chapman legacy, contact us.