Legacy of a Cultural Catalyst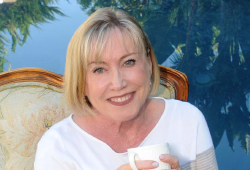 Originally from North Carolina, Ginger Silverman '77 was sure she wanted to leave her small town and go to California for college. It was this desire and a guidance counselor recommendation that led her to Chapman University (then Chapman College).
Once here, Ginger was exposed to more socioeconomic and cultural diversity than she had ever experienced at the tobacco farms in her hometown. Her time at Chapman helped to broaden her global perspective and sparked her interest in influencing culture. A deeply dedicated student, Ginger would go on to receive the Cheverton Award - the University's oldest and most prestigious award for a graduating senior.
After graduating, Ginger moved to Los Angeles, where she was told about a job opportunity in marketing. This led an extensive career in a range of industries from e-commerce to in-store merchandising. Ginger has developed digital marketing strategies, written several books and taught in the English and communications departments at both Chapman University and Brandman University.
A deeply involved alumna who donates annually, Ginger has also served on several boards at Chapman over the years. Her love for the University is apparently contagious - in later years her sister, Kim '80, brother-in-law, Dan '80, nephew, Daniel '15 and daughter, Eve '20, would all go on to attend Chapman. Ginger is positive that her proudest Chapman moment was sending Eve to the University.
With her self-starter attitude and confident grace, Ginger was always poised for greatness. Deeply grateful, she recognizes that Chapman gave her the tools, connections, perspective, and knowledge to pursue her goals.
Ginger was able to attend her beloved alma mater because of generous financial aid. Her desire to pay it forward inspired the decision to plan thoughtfully and include Chapman as a beneficiary of her living trust. In doing so, she hopes to create a legacy that inspires other students to pay it forward. Ginger has chosen to support students in need of financial aid because she is passionate about building the souls and minds of Chapman's students, during her lifetime and beyond.
Inspire Your Legacy
For information about creating your Chapman legacy, contact us.