Giving With a Global Perspective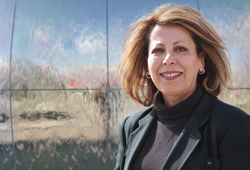 Sussan Mashhoodi '82 knows firsthand the value of global citizenship. As a teenager, she left Iran to attend Chapman University just before the revolution -- an experience that colors her belief in the importance of campus diversity.

"Having exposure to a diverse student body and faculty from across the globe cultivates the fertile ground in a young scholar's mind," said Mashhoodi, who earned a bachelor's degree in business. "I am confident such exposure can result in better understanding and tolerance of opposing views."

To empower more students from Iran to come to Chapman, Mashhoodi established a living trust that includes a bequest to Chapman University. Working with David Moore, Chapman's assistant vice president for legacy planning, she made plans so that the bequest will eventually create the Sussan Mashhoodi-Khabiri Endowed Scholarship.

"I come from a family where education and facilitating opportunities for others have been regarded as a duty to the society," she said. "Upon reflecting on the issue, I decided to continue with the family tradition."

The scholarship will be awarded to students from Iran or those from the United States who have demonstrated a strong commitment to the Persian-American community. Also considered will be applicants' commitment to women's rights in Iran and the promotion of a free exchange of ideas.

By working with Chapman's Center for Global Education and the Department of Admissions, Mashhoodi already is helping to build a foundation for future generations of Iranian students.

"We touch someone's life and make a difference by every decision we make and what we do on a daily basis," said Mashhoodi. "I believe we can and should continue doing so when we are no longer around."

Click to learn more about how you can empower future generations of students by including Chapman University in your will or living trust.
Inspire Your Legacy
For information about creating your Chapman legacy, contact us.