Never Too Young to Have a Plan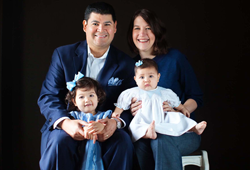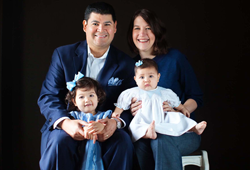 Jason, Nicole, Charlotte and Georgia Ann (Photo courtesy of Allison Rodgers Photography)
When class of 1998 alumni Jason and Nicole (Lejuwaan) Hernandez married, they developed a will as an essential component of their family planning. Over the years, their family has grown by three, daughters Charlotte, Georgia Ann and Victoria Louise.

"Wills are important to establish early on," says Jason. "It's very important to have your wishes documented, especially if you have children."

Through their will, the couple is establishing an endowed scholarship fund. Their gift has very special criteria, as it is both need- and merit-based. They want to be able to support students who perform well academically and love Chapman but may not have the means to afford a private-school education.

Nicole and Jason both value their undergraduate experience highly and want to give others the same opportunities they had. The pair met at Chapman and the university remains a very special place for them. Nicole learned about the many ways philanthropy benefits our students while she was employed at Chapman as coordinator of the phone outreach program to alumni, parents and friends.

During their undergraduate studies, the two were very involved in student government, athletics and numerous volunteer projects. They appreciate Chapman's small, family-like environment and they still remain close to peers and professors. Nicole and Jason regularly attend local alumni and fraternity and sorority gatherings near their home in Tennessee. Jason joins his Pi Kappa Alpha brothers each year for the 10k Mud Run held at Camp Pendleton. He is proud to note that all of the groomsmen in the couple's wedding were fraternity brothers and most of Nicole's bridesmaids were her Alpha Phi sisters.

The Hernandezes are also very active in serving their community. Jason is a board member of a local orphanage in his hometown in Tennessee, and Nicole raises funds for Susan G. Komen for the Cure, the leading organization in the fight against breast cancer. The couple plan to instill the same values in their three young daughters.

Jason's advice to his fellow alumni and others involved with Chapman?

"Understand the value of making an estate plan, and when planning, try to keep Chapman in mind so future generations can benefit from a similar, meaningful experience."

Click to learn more about including Chapman University as a beneficiary of your will or living trust.
Inspire Your Legacy
For information about creating your Chapman legacy, contact us.