Professor Creates a Legacy in Education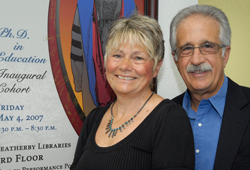 Dr. Joel Colbert and his wife, Donna, are lifelong educators who are passionate about their vocation. Donna retired from the Los Angeles Unified School District around the same time that Joel became the director of the Ph.D. program in education at Chapman University.

Since 2007, the Ph.D. in education -- Chapman's first research-oriented doctoral program -- has offered doctorates in cultural and curricular studies, disability studies and school psychology. Now the Colberts have found a unique way to help advance the emerging program.

Through a bequest in their living trust, Joel and Donna will one day leave a percentage of their estate to build an endowment that will fund scholarships for Ph.D. students in education at Chapman. Ph.D. programs typically provide students with a substantial tuition reduction and a livable stipend. But because it's so new, the Chapman program doesn't have such a system in place.

"Donna and I were looking at our wills and we saw an opportunity to fill a real need for scholarships," Dr. Colbert says.

Such bequests allow supporters to provide an ultimate gift to a nonprofit organization that reflects their values. Those interested in aiding Chapman students and programs can specify the program they want to support.

Ph.D. students often have to take out loans and deplete their savings to afford an advanced degree. Recognizing that it will be decades before their bequest matures, the Colberts have bolstered their bequest by creating a charitable trust that will begin to contribute to a scholarship fund within five years.

"It's powerful to have members of the Chapman community who are so personally committed to making scholarships available for students," said David Moore, director of planned giving at Chapman University. "By sharing their story, Joel and Donna Colbert hope to inspire others to consider a similar investment. It's truly visionary."

Don Cardinal, dean of the College of Educational Studies, adds, "More than half of the faculty and staff in our college contributed this past year to some form of student support, mainly to buy textbooks for those in need."

Having retired from teaching in May 2012, Dr. Colbert always asked his students to consider their educational legacy. He challenged them to have a personal conviction to solve the problems facing educators and improve the lives of children.

One of Dr. Colbert's former students is César Gonzalez, a father of four who had been searching for the right Ph.D. program. "Chapman's emphasis on cultural and curricular studies was exactly what I was looking for," Gonzalez said.

His research is on brain-based learning, technology in education and teacher efficacy. With an ultimate goal of helping marginalized children to succeed as learners, Gonzalez is exploring how successful teachers reach low-income, underachieving, underrepresented students. He wants to develop a model for teacher application to help them achieve their greatest impact as educators.

Gonzalez proudly shares that his experience in the Chapman Ph.D. program is both rewarding and uplifting.

"The face of education needs a facelift, and Chapman is helping us become pioneers in this change," he says. "The faculty is comprised of great leaders who help us pave the road to change."

"It is very fulfilling to set up a legacy of support for a new generation of knowledgeable leaders who will provide the research and scholarship necessary to meet the growing needs of our state's and our nation's diverse student population," said Colbert.

Click to learn more about including Chapman University as a beneficiary of your will or living trust.
Inspire Your Legacy
For information about creating your Chapman legacy, contact us.