Education is Salvation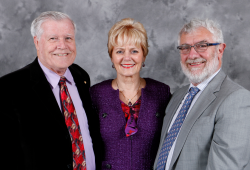 Larry (M.A. '72) and Sandee Collier believe in the life-changing power of education. "Education is salvation," emphasizes Larry. "Receiving a good education is the strongest guarantee of success in life."
Larry graduated from Midland University in Fremont, Nebraska in 1961 majoring in English. He received his master's degree in administration from Chapman University (then called Chapman College) in 1972. He taught high school in Santa Ana for 47 years (1961-2008) and is now an ESL adjunct professor for the Rancho Santiago Community College District. His wife, Sandee, graduated from California State College in Hayward (now East Bay) in 1976 majoring in kinesiology and dance. She received her master's degree in kinesiology from California State Polytechnic University in Pomona in 1987. She taught physical education and health for 39 years in Orange and retired in 2012. Ever since her retirement, Sandee and Larry continue to invest time, assets, and expertise in education.
Larry explains, "We've been helped ourselves, so why not help others?"
"We believe in paying it forward," agrees Sandee.
Being lifelong educators, it is no coincidence that the Colliers support student scholarships annually through the Chapman Fund and Town & Gown. Their passion for the University has led them to include Chapman in their estate plans. Their legacy gifts will create scholarships for students pursuing the performing arts. The two enjoy all forms of music - both have performed in various countries over the years with the Orange Community Master Chorale - and are lovers of all areas of the performing arts. Together, they have attended and adored many musical performances at Musco Center for the Arts.
When asked "Why Chapman?" Sandee explains that Larry's love for the school is infectious and that she personally appreciates Chapman's friendly small-town atmosphere. For Larry, it's rather simple: "I like the kids." Both agree that they especially enjoy the friendly campus atmosphere, the genuine care displayed by the faculty and the close attention paid to students. Larry specifically admires Chapman's strong leadership, growth and dedication to diversity and inclusion.
"If everyone who graduated from any college gave something back, how much better off would we be? That institution has helped make you successful, so why shouldn't you contribute to the success of the institution and its students?" Larry advocates.
Sandee hopes that their future scholarships will make Chapman possible for students seeking to experiment creatively. The Colliers believe that supporting scholarships gives them the opportunity to make a direct difference by empowering students to achieve anything imaginable.
Inspire Your Legacy
For information about creating your Chapman legacy, contact us.