Supporting Education through a Global Perspective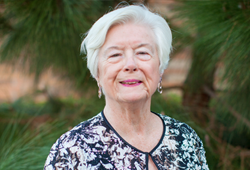 After working for many years in international business and extensive overseas travel, Jane Clark deeply values a global perspective. With those experiences to guide her, she thoughtfully chose to designate experiential learning programs through Chapman University's Argyros School of Business and Economics and Center for Global Education as the beneficiaries of her individual retirement account (IRA). Her love for Orange County and admiration of Chapman's rigorous academic programs made Chapman a natural choice.
Giving to Chapman provides Jane the opportunity to connect more deeply as a member of the Chapman Family, building new friendships and gathering experiences.
Because she meets the qualifying age requirement, Jane also makes annual gifts to both programs by taking advantage of the IRA charitable rollover. This is a way to give during her lifetime that reduces her taxable income and avoids taxes by sending the gift directly to Chapman University from her IRA. Another benefit of the IRA charitable rollover is that it can satisfy Jane's required minimum distribution (RMD) for the year. The most valuable benefit is that Jane is able to make an immediate impact on Chapman students and support the mission of the University.
Ultimately, Jane believes in the power of education.
"Students are the ones who need to go out in the world and increase business and employment," said Jane. "They are the next generation to make decisions and move our country and world forward."
Inspire Your Legacy
For information about creating your Chapman legacy, contact us.