A New Trend for Young Alumni: Planning Decades in Advance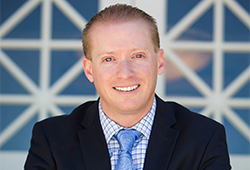 Wills, living trusts and last wishes. Such extremely important topics— and yet many of us don't plan to think about them until our retirement years. Some Chapman alumni, however, are planning ahead—and are pioneering a new trend in alumni giving. One such alumnus, Adam Coughran '04 (M.A. '10), is including a gift to Chapman through his living trust.

After years of supporting the Chapman Fund, Adam says he was motivated to include a legacy gift in his estate plan because Chapman instilled in him a belief that he can make major changes that will have a lasting impact. He also wanted future students to receive the unique, personalized education that he was able to enjoy.

For today's students pursuing higher education, scholarship availability is often the ultimate deciding factor when high-achieving students choose to attend a college. Those scholarships are typically funded by alumni, foundations and other generous supporters.

Adam says he was fortunate enough to receive the Dean's Scholarship for his undergraduate education, noting that it helped his family tremendously. Adam felt a meaningful way to "pay it forward" was to name the university as a beneficiary of his estate.

"Knowing what the university has done for me in my life, I felt it was only right to help give other students the same opportunity I had," mentions Adam. "Having the ability to help even one student earn a world-class education makes it all worthwhile."

Request a free guide to planning your will and living trust online at www.chapman.edu/wills-guide.
Inspire Your Legacy
For information about creating your Chapman legacy, contact us.