Young Alumni Legacy Giving on the Rise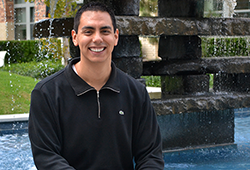 Alex Popescu '10 took steps towards creating his legacy earlier than many other alumni.

"I am a long-term planner. So figuring out my estate was something I'd been meaning to do for a while, says Popescu.

After his lifetime, Alex wants his remaining assets to go toward great causes—including his alma mater.

A legacy gift is a way to perpetuate one's annual support. For Alex, that meant including Chapman as one of the death beneficiaries of his 403(B) retirement account.

Alex's strategic vision and dedication at his young age is impressive. And this isn't his only way of giving back to Chapman - prior to his induction into the Charles C. Chapman Legacy Society, Alex was already an ongoing supporter of the Chapman Fund—an annual fund that helps university address the most pressing needs on campus. Because his legacy gift will not be realized until his passing, Alex says giving to the Chapman Fund is one way to have an impact sooner rather than later.

"I give back to Chapman because I want to make a difference in the world," says Alex. "The generosity of donors allowed me to become the first in my family to attend college. I want future students to have that same opportunity."

Learn more about including Chapman University as a beneficiary of your retirement plan online at www.chapman.edu/how-to-give.
Inspire Your Legacy
For information about creating your Chapman legacy, contact us.